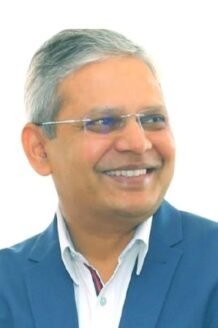 Dr. Ranga Reddy Burri
Founder
Dr. Ranga Reddy is a Physician, Public Health specialist, and Social Entrepreneur with interest in business verticals of high social impact. Dr. Ranga Reddy Burri is a Health policy enthusiast focused on public health awareness, education, and training. He is committed to the improvement of patient safety in India and other low resource settings. He graduated from Minsk Government Medical Institute, Belarus with MD (Physician) degree, subsequently he did his PG Diploma in management from Pondicherry University and Advanced Management from IESE, Barcelona, Spain with specialization in Strategy & Business Development.
Dr Reddy is the Founder of Sanmed Healthcare, where he plays a strategic role guiding team in the areas of research & development, product portfolio and expansion into global markets.
Dr Reddy is also the founder trustee of Infection Control Academy of India (IFCAI), a non-profit initiative to create Infection Prevention capacity for India and emerging countries. In recognition of his Public Health leadership skills, he was invited by University of Hyderabad, an Institute of Eminence to impart his knowledge and experience in the capacity of Honorary Professor. His effort has translated into creating several long-term programs in IPC segment.
Additionally, he supports several non-profit organizations in the capacity of advisor including MNR trust, Neelam Rajasekhar Reddy Research Center for Social Progress & Indian Institute of Public Health.
Arvind Vasudeva is promoter of Sanmed Healthcare since 2015. He brings over 37 years of rich professional work experience of which 18 years has been in capacity of C-Level Executive at some of big pharma's of the world. He brings a strong business acumen and strategic thinking from his experience in companies like Astra Zeneca, (1989) Dr. Reddy's Lab (1995), Wockhardt (2003), RPG Life Sciences (2006), Glenmark (2010), Aurobindo Pharma (2012).
He has worked across Geographies, across Product Categories and across Therapies. He has travelled across the globe for business, International Symposiums and Workshops. He is also active participant in various Forums of Pharma Industry as well as Management Institutes. He was awarded "Udyog Ratna Award" by Institute of Economic Studies". In line with his passion about channeling the power of Microbes, Arvind in 2015 started his entrepreneurial journey and is currently a Promoter Director with Sanmed Healthcare Pvt. Limited, a Hospital Business focused company currently manufacturing and marketing Antiseptics and Disinfectants.
He co-founded the Infection Control Academy of India (IFCAI) where he is one of the Founder Trustees. He is a certified CEO / Executive Coach in 2008. He has done his M. Pharm before UIPS, PU Chandigarh.